Call Now: 5447 1077
1 - 3 Waterson Court
Golden Square VIC 3555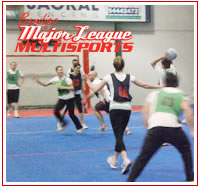 Indoor Netball



Indoor netball is a variation of netball, played exclusively indoors, in which the playing court is surrounded on each side and overhead by a net.

The net prevents the ball from leaving the court, reducing the number of playing stoppages. This gives indoor netball a faster pace than netball. Indoor netball is a great way to maintain your skills and fitness for the outdoor season.



Indoor Netball is fast,
exciting and most of all great fun.




General Information




Ladies Competitions Monday and Tuesday nights

Mixed competitions Monday, Tuesday and Wednesday nights.
7 a side (mixed maximum of 3 guys) .
$70 team insurance entry fee + $84 team game fee every week regardless of the number of players.
Game times range from 6.00pm to 9.45pm.
45 minute games
No singlets
Secondary College Indoor Netball

Indoor Netball is fast, exciting and most of all great fun.
General Information
8 WEEK SEASON

STARTING 7TH FEB AND FINISHING 25TH MARCH
Wednesday nights.
7 a side (mixed maximum of 3 Boys) .
$84 WEEKLY TEAM FEE ($12 PER PLAYER PER WEEK)
GAME TIMES 4.30, 5.15, 6.00
UMPIRES, SCORERS, BIBS AND EQUIPMENT ALL SUPPLIED
NEW RULE - THE CENTRE CAN SHOOT A TWO POINT GOAL FROM OUTSIDE
THE GOAL CIRCLE

INTRODUCTORY OFFER

- FREE INSURANCE AND REGISTRATION
(Saving $70 Per Team) NO VNA NEEDED
CLICK HERE TO VIEW THE FLYER

*** UMPIRES REQUIRED ***
Cricket, Soccer and Netball.
Are you looking to get into the sports industry
& earn a little extra cash?
Call Now for Details 5447 1077
STADIUM POLICY
It is understood the following conditions shall apply
Full game fees are expected each week before the start regardless of the number of players playing
Teams paying short will receive no game points that week
Forfeit fees apply. The fee is equivalent to a game fee and must be paid within a week of forfeit. ANY MORE THAN 1 forfeit for a season and team may be removed from the competition at the centres discretion.
Teams must be in matching coloured shirts by the third round. Skirts, shorts and tracksuit pants can be worn. NO denim an NO singlets will be tolerated.
All jewellery with the exception of a flat wedding band must be removed or taped with your own tape.
Players must play a minimum of 3 games during the season to qualify for finals.
Any verbal, physical, net abuse or deliberate bad sportsmanship will not be tolerated.
All team members play at their own risk and accept the playing conditions of the centre.
Remember the most important thing is to enjoy yourself and good luck for the season ahead.



Court Sponsors


You can visit our sponsors by clicking on the images.


| | | |
| --- | --- | --- |
| | | |
| | | |
| | | |
| | | |
| | | |